The Be First or Be Last Method
Franchise Sales & Development is a art form that requires a multitude of learned skills; knowing how to generate leads, having a sales process, having the right industry contacts, and many others. However, none of them will maximize your performance to the level that tenacity will, and that is what Be First or Be Last is all about.
This is a full explanation of the Be First or Be Last method of franchise sales. First, though, let's talk about what it takes to be successful in this space. If you surveyed the top 10% of franchise development folks and asked them for 2 key secrets to being successful at franchise sales, I guarantee you every one of them would say "be relentless" for one of the two.
In fact, Flo Schell, former Vice President of development for Sylvan Learning Centers, said" relentless" was the sole word that came to mind when asked how her prospects might describe her. (Flo was in charge of franchise sales when the company doubled, from 300 to over 750 locations in one year).
Gary Occhiogrosso is franchise development pro, industry thought leader, and the host of the small business and franchise show. Just like Flo, Gary says that he follows up with his prospects "many, many times" and that is why he enjoys more successes than "90% of " his competition.
So, if that's the "secret sauce" of top performers, why do we need the Be First or Be Last method? Why do we need any method, for that matter?
Relentless Can Mean Different Things
The fact is, there are different kinds of relentless. I hosted a franchise sales roundtable at the IFA's annual convention a few years ago. A new-ish franchisor explained that his process involved 5 calls, 5 emails, and 5 texts before he gave up. The seasoned people around the table were all nodding our heads until he dropped the bomb; this all happened in 3 days. In his opinion, a real prospect would have engaged within 3 days. That was it, no further follow-up was needed. Now, I didn't ask them, but I am guessing this is not what Ms. Schell had in mind when she said she was "relentless", or Mr. Occhiogrosso when he talks about following up "many, many times". That is why I use, teach, and swear by the Be First or Be Last method.
About The Be First or Be Last Method
The Be First or Be Last method is built on the following ideals:
Most franchised prospects inquire about multiple brands at once
Being the first brand to make contact means you will likely be afforded the opportunity to evaluate them
Being first to speak with a prospect, while desirable, isn't always possible
Many times, once a prospect engages in the discovery process with one or two franchisors, they ignore the rest
Many of these prospects may take weeks or even months and then determine that neither of the franchises they are looking at work for them
Now one of two things happen. Either the prospect is "franchise fatigued "and gives up, or they hit the reboot button and start the process over.
I am not going to claim that I am the first person to come up with the idea of being relentless in the pursuit of the right franchise candidates. Nor am I first person to say that you need to have a process in place for followup. I am certainly not the only one to think that you should spread your contact points out a bit! The Be First or Be Last method, however, is the first time that I have seen a franchise sales process specifically targeted at both the beginning and the "reboot" point in the prospect's journey to franchise ownership.
Why Being First Is Important
There is one very obvious reason to want to be the first person in contact with a prospect. If a franchisee is going to only engage with a couple of brands, you want to be one. I often say there is no such thing as the perfect franchisee, or the perfect franchisor. We are looking for "the perfect fit ". However, for most people, there are multiple "perfect fits". Obviously, you must engage with them to find out if you are a match. While this is the most obvious reason, there is another extremely important reason to be first.
You Become the Educator
For the majority of people, this is their first interaction with franchising. They don't understand the systems of franchising, and even less about how to buy into a system. In the words of Joel Libava, a franchisee educator, " when you think about it, how would you know how to do good franchise research if you've never pursued franchise business ownership?" If you are the 3rd or 4th or 6th franchise this person has looked at, they may have been taught some bad habits. They may have:
Looked at a franchise with no franchise development professional. Maybe they had a couple of unstructured calls with the CEO. They received an FDD without even knowing what it was. Maybe they randomly called franchisees. In other words, they ran the show. The fact that you want to use a "process" might be off-putting.
Worked with a franchise with significant dissatisfaction among the ranks, were steered to the few happy franchisees for validation, and realized what was going on. This means that any attempt by you to control the validation process may be looked at with suspicion. The problem is that a growing brand needs to control the process. From how and why to franchise your business "I recommend that a franchisor control the validation process completely. . . Without this level of control, a young franchisor with few franchisees can quickly experience validation fatigue, where the franchisees hesitate to give time to the prospects because they don't see the payoff of that time, i.e., they don't see the people they are talking to getting involved in growing their brand."
Worked with a franchisor that used the "pulse and a checkbook" qualification process and learned on their own that they were not a good fit for the brand. This puts you in the position of proving that you are in fact selective in who you award franchises to.
None of these situations are insurmountable, but neither are they ideal. So, if possible, be first!
How To Be First
The exact nature of how to be first will depend on the lead source and your own staffing abilities. Let's take trade shows as an example. National franchise expos are typically Thursday-Saturday. Many franchisors fly home on Sunday, and on Monday begin putting their leads in their CRM and making calls. They will complete their first set of calls between Friday and the following Monday, depending on the number of leads they captured and how efficient they are with their CRM.
When I work a trade show, things go differently. Thursday at about 4 pm (they close at 5) I put that day's leads in my CRM. They immediately receive an email. Friday morning my assistant begins calling. We handle Friday and Saturday leads the same way (but we don't call on Sunday). Typically, we have completed initial calls by the end of day Monday.
Be First Even When You Can't Be
Being first ideally means making contact by phone. Maybe you don't have the staff to handle, for example, calling while you are at the trade show. That is understandable but find a solution. Input your leads in the CRM and do a mass email at least. Hire someone to do just that piece if you need to. At least make contact. Also, if you find yourself frequently in the position of not being able to be both relentless and timely, it might be time to consider either hiring a franchise professional in-house or outsourcing your franchise development to a qualified company.
You might think other lead sources have a bit less competition to be first, but that's not the case.
You Are Always Competing To Be First
This is a screenshot from franchise gator, a portal I advertise on often. Notice how when I inquired about Amada Senior Care, the portal suggested two other franchises for me as well? Most people select at least one of those, sometimes more.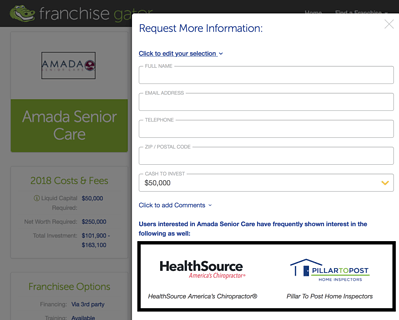 When I go to Franchise Direct to inquire about Building Kidz preschool they offer to put me on a mailing list and I'll get new franchises in my inbox every day.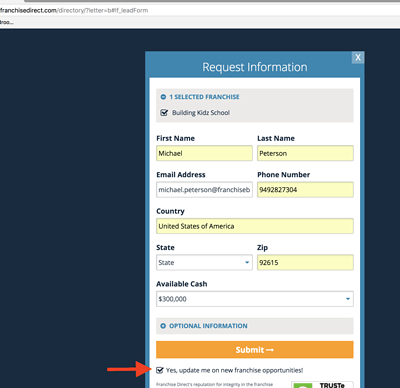 Even website leads aren't safe! When I search for something, I often open the first 3 or 4 searches in google in different tabs. If your prospect happens to be a multi-tab browser like I am, they might have inquired about several franchises even if they came through your website!

Why Being First Doesn't Always Work
There is a multitude of reasons why you might not be first. Remember what I said about franchise direct? You might be one of the brands the prospect inquiries about after they get their first newsletter. Or you might be at a tradeshow with me! At times you will be one of the brands that isn't getting returned messages, and whose emails are going unresponded to. In that case, it's time to be last.
Why Being Last Is Important
At the beginning of this article, I explained that the Be First or Be Last method is based on a series of beliefs about what happens with many franchise prospects. If you are thinking about being last, then obviously you missed being first. The fact is that many franchise development personnel give up after not being able to reach a lead within a day or two. Most give up after a couple of weeks. By the time the prospect hits the "reboot" phase I mentioned in the beginning, most brands have written them off completely.
You missed being first. But catching a prospect at reboot is almost as good. You are able to work with someone who has spent the last several months honing their decision-making process. They likely have their finances lined up. Most importantly, they know what it takes for them personally to say yes. I have closed many franchise sales after losing contact with people for months at a time. Two different times in my career I have done deals with more than 18 months between inquiry and close.
How to Always Be Last
There is only one way to ensure that, if you weren't first, you are for sure last. Never give up on a lead. Let me repeat that, as it bears repeating. Never. Quit. Trying. Has your prospect said "i am not interested? No? Then they are still viable.
Am I saying you should still be calling a lead 2 year from now that never answered the phone? No! I am saying you should be doing so for at least 1/2 year, though. Here is a snapshot of my lead contact policy. That's 9 calls over 8 months. The Be First or Be Last method is not based on 8 months, however. It is based indefinitely. Once you have ran a full contact campaign on a lead, you should put them on a drip campaign. All of your "dead" but not "not interested/unqualified" leads should be hearing from you once every 3-4 months with company updates, new openings, industry changes, and other information that is both pertinent and also keeps you top of mind.
Getting to "No" Faster
One of the things that adopting the be first or last method will do for you is make you appreciate hearing "no". At least you know that you can take that person off your follow-up list.
How do you turn no response into a "no" response? Simple, give the prospect reason to let you know they are not interested and an easy way to do so.
On every voicemail, we let the prospect know that we are looking forward to hearing back from them, and when they can expect to hear back from us next if we haven't heard from them. On the third and subsequent voicemail, we remind them there is more than one way to communicate with us. Something to the effect of "ok, Jim, well if I don't hear from you I'll give you another ring in a few weeks. By the way, if you want to schedule an appointment, or have decided that this isn't the right fit or time for you, don't hesitate to drop me an email or even send me a text, ok?" When I added that statement to my 3rd voicemail, I saw my response rate go up by about 15%. Almost 100% of the gain was "not interested" dispositions, but that's ok!
So that is the be first or last method. I have been using it for about 10 years, and I can tell you without a doubt that it works. We have formed franchise relationships from trade shows where we were the only brand they engaged with because we got to them so early, and we have brought in franchisees off the 5th and 6th voicemail.
Wrapping It Up
The Be First or Be Last method will gain you sales. I have used it, I have seen franchise development professionals use it, and I know it works. More than anything, if you adopt the mentality that you always have to touch a prospect before your competition, and you are not going to give up until the prospect tells you to, you will be approaching franchise sales correctly.
If you do decide to adopt the Be First or Be Last method of franchise sales, I would love to hear your experiences with it. And as always, if you would like to discuss this, or anything else franchising, give me a call, drop me a line, or even shoot me a text! In the mean team, head on over to our about us page to learn more about Beacon, or check out the franchise sale process we use.
Franchise Professionals
As one of the leading franchise consulting firms in the country, we are uniquely positioned to help all your franchise sales needs.
More than Sales
If you are looking for franchise consulting, Franchise Startup assistance, or franchisee or franchisor funding, be sure to go to our homepage and explore our other offerings.