The Chief Marketing Officer and Co-Founder of Building Kidz Preschool Franchise parlayed his high-tech career into creating a high-touch franchise brand.
I recently had the privilege of attending the first annual
Building Kidz Preschool franchise
convention in Foster City, CA. I sat down with Building Kidz Co-founder and CMO (and Foster City Councilman) Sanjay Gehani. Building Kidz is a long-running client of Franchise Beacon's in the preschool franchise space. We helped 
take their preschool business and turn it into franchise
, and I count Sanjay as a personal friend as well. I was meeting with him to do an interview for
Franchising.com
's Chief Marketing Officer Q&A section. The piece can be seen here, and it obviously struck a chord with Franchise Update Media's audience, as it has about a 10% share rate (compared to less than 1% average), so I thought I would share it on our blog as well.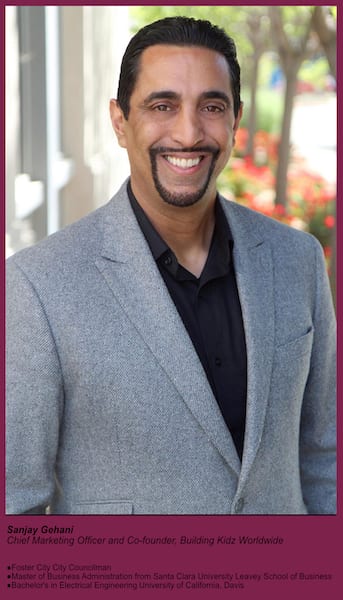 Read below for my recounting of the interview and key answers from Sanjay, or c
heck out the interview on franchising.com.
Sanjay is obviously popular with his franchisees; everyone who walked by received a personal greeting, and most were eager to take a minute to catch up. In between handshakes, we discussed his background in high-tech, how it prepared him for franchising, and his learnings from his first four years in franchising. To begin, I asked Sanjay to share a bit of his pre-franchising background.
I am an Electrical Engineer by education, and my time in corporate America was at Xilinx, a semiconductor company that leads the industry in technology development. I started in customer support, but management saw something in me, and I was quickly fast-tracked into cross-functional roles. Early on, I relocated from the Bay Area to Tokyo. There, I helped build relationships and drive technical training and implementation for top customers like Fujitsu, NEC, and Sony. After a year in Tokyo, I came back to the Bay to take on roles in regional sales, business development, and global pricing. My 15-year career with Xilinx was rewarding with my last position overseeing a portfolio of international partners influencing over $700M in lifetime revenue.
So how does one go from overseeing global strategic initiatives to leading an emerging preschool Franchise?
Like many people in franchising, I fell into it. I was looking for a preschool for my son and Building Kidz was a local preschool chain owned by Vineeta Bhandari, a long-time family friend who has known me since I was 6. I sat down with her to learn more about her business goals. What she told me touched me, and I knew right then that I had to get involved.
What Vineeta shared was her backstory; how in 2002 her daughter's preschool was no longer willing to provide services because they didn't know how to deal with an insulin-dependent child. Vineeta left her career as a financial consultant to Bay-Area companies like Sun Microsystems to start a preschool and be close to her daughter. Over the next 10 years she developed a passion for both the business and education side of preschools. When Sanjay went into Building Kidz in 2013, she had developed a proprietary curriculum and was deploying it at 5 schools in the area. Over the previous 10 years she had developed a dream of impacting the lives of 1 million children in her lifetime through her Early Childhood Education work.
At first I was strictly an investor and advisor in the development of the growth strategy. Over the next 14 months, we doubled our footprint, but it became clear that we would not, on our own, touch the lives of 1 million children. That realization was the genesis of both the Building Kidz preschool franchise and Building Futures, our non-profit organization.
Building Kidz dedicates 25% of its profits to help underprivileged children in impoverished areas, both at home and abroad, by providing access to sanitation, education, and nutrition. They also help fund research into diabetes and other childhood diseases. I asked Sanjay how he felt that his time at Xilinx had prepared him to become a franchisor.
When you think about it, silicon is at the base of every process that drives our world; it allows your bank to track your balances in real time, allows you to sit there and type notes as we talk, silicon is even what allowed you to call an Uber from the airport. The world's largest manufacturer of Silicon reprogrammable chips is naturally steeped in processes and procedures. Franchising is such a process-driven world, and my background allows me to think in processes, workflows, and procedures for implementation. Beyond that, developing global alliances on behalf of Xilinx allowed me to hone my ability to understand people from various walks of life, cultural backgrounds, and ideals. Quickly identifying if disparate groups of people were ideal "fits" for us, from a strategic standpoint, prepared me to do the same thing in the franchise space.
Like most of us in franchising, certain parts of the space caught him by surprise. What caught him by surprise itself is also surprising, however.
I was on the bleeding edge of tech, so of course I realized the world changes fast. Knowing that the world changes fast and even seeing the changes in technology coming way before others is not at all the same as living in the middle of those changes every day. When I left, our partners at Xilinx were developing photo-stitching technology; a backbone component of self-parking applications and, eventually, autonomous driving. Now I am in the trenches and experiencing how, as an example, mass adoption of cloud computing allows young franchisors to have access to data that, even 5 years ago, only the big boys had. Knowing about change, even helping to implement change, is not the same as experiencing it day-to-day.
Now four years in Building Kidz has 26 schools open in 8 states and two countries, with more opening all the time. They have received extensive recognition, including being named a "
Top Emerging Franchisor" by Franchise Gator
and considered one of the "Top 100 new franchises". Sanjay laughed when I asked for his advice for would-be or emerging franchisors.
I still feel like an emerging franchisor! I learn more about this industry and the responsibilities, frustrations, and joys of what we do, as well as the challenges of small business ownership, every single day. For advice? I guess the default answer to your question is 'document everything'. I would say 'assemble the right team, fast'. Make sure they are people who have experience in franchising and in business, and people who you want to break bread with. If you have the right team, they will tell you to document everything, along with a thousand other small pieces of advice, every day, that will keep you on the road to success. This hasn't been easy, it still isn't easy, but we couldn't have made it to where we are without our internal team and external group of advisors.
Interested parties can learn more about Building Kidz at
Buildingkidzschools.com